BOARD OF DIRECTORS
Lyt Wood, Chairman

Lyt Wood has been a professional arborist, forester and educator in natural history subjects since 1974. He has a Bachelor of Science degree from Virginia Polytechnic Institute and State University in Forestry and Wildlife Management. From 1974 to 1981, he worked as County Forester with the Virginia Division of Forestry promoting forest management practices on private land in Madison and Rappahannock Counties.
Since 1981 he has worked on various projects related to agriculture, tree care and natural history education: editor of the newsletter of the Virginia Association of Biological Farmers; manager of a 30-acre apple and peach orchard and 60 honeybee hives; educational and other support for the Nature Camp at Vesuvius, Virginia; and assistance with mapping and other projects for The Nature Conservancy. In the 1980's he worked with the Piedmont Environmental Council's Education Committee to establish a regional educational program, of which PEC's Natural History Day Camps were a part.
In 1986 he helped to establish Rapp Nature Camp which, under his direction, is still open to children each summer at his property on the Hazel River south of Sperryville. He is semi-retired as sole proprietor of Tree Works, specializing in all kinds of tree care. His personal interests include gardening and small-scale farming, wildlife watching, Goethean science, Waldorf education, songwriting and traditional music.
Kat Habib, Board Member

Kat Habib is a Rapp Nature Camp neighbor who, before becoming Assistant Director in 2015, would annually look across the river during the camp session while on her walk, wondering what the campers were up to.  She is delighted to be on this side of Singing Creek.
Kat has made her home in Rappahannock since 2012, a life-long dream that began during her childhood over the mountain in Warren County.  Growing up on a farm with an environmental scientist mother (a colleague of Lyt's), soil quality and gardening, seine nets and river critters, art and song, were all part of every day conversation; she enjoys both remembering and sharing this with campers.  Kat received a BFA from the Corcoran College of Art + Design, where she managed the ceramics studio for several years and taught in the Pre-College summer program.  From 2014-19, she worked as a college and career guide with Headwaters Foundation.  She continues her relationship with Rappahannock school community by substitute teaching and serving on the Headwaters Board.  Now a ceramic artist and florist, Kat is both an artist and an educator, each feeding the other within her.  Much of her artistic inspiration comes from nature and observation.  She especially likes birds, trees, walks in the woods and hearing from children what they see that adults may not.
Dot Lessard, Secretary

Along with business partner Richard Lessard, Dorothy Lessard founded Lessard P.C., Architects and Holland Lessard Group Construction Managers in Washington DC in 1981. At its largest, the firm was 30 people providing architectural, interior design and construction management services. Dorothy's commitment to civic involvement took root when she secured the first two grants from the Palisad Citizens Association for art benches to be placed in the MacArthur Boulevard community of Northwest Washington, where she and her husband lived and had their office building. During this time, Dorothy also became involved with Jubilee Housing and was invited to serve on the Board of Directors for their fundraising arm, Jubilee Support Alliance. Jubilee Housing is dedicated to maintaining affordable housing in the Adams Morgan community of Northwest Washington, DC.
Dorothy and her husband have owned property in Rappahannock County since 1986, and became full time residents in 2009. Dorothy volunteers at the Rappahannock Food Pantry, and in addition to serving on the Board of Directors for Headwaters Foundation, she volunteers for the Headwaters After-School Program, and she and her husband are mentors with Headwaters' Starfish Mentoring Program.
Eric Plaksin, Treasurer
Father of two enthusiastic campers, Eric Plaksin and his wife Rachel Bynum have run Waterpenny Farm in Sperryville since 2000. In college he helped establish and manage a one-acre organic farm at Carleton College in Minnesota. After college Eric spent four years working on Wheatland Vegetable Farms, a 45-acre pesticide-free vegetable farm in northern Virginia, before moving to Sperryville to start Waterpenny.
Beth Gall, Board Member
Beth Gall was a high school classroom teacher for 34 years. She taught Earth Science in Culpeper in 1983 when she and her husband, Paul, made their home in Rappahannock County. She retired after 26 years at Rappahannock County High School where she taught Earth Science, Environmental Science, Horticulture and Service Learning. She graduated from Va. Tech with a Bachelor of Science degree in Forestry and Wildlife Management and acquired her teaching license from the University of Mary Washington. Her students had many opportunities to work with many Rappahannock community members. Environmental science students sampled the Thornton River, surveyed and studied the school's wooded plot in Woodville and identified plant species at a pond in Laurel Mills. Service learning students volunteered at the Food Pantry, the Rappahannock Historical Society and fire departments or rescue squads in Sperryville, Amissville and Washington. Horticulture students learned from local residents at Waterpenny Farm, Sunnyside Farm and Green Comfort School of Herbal Medicine, to name a few.
Beth has two daughters who were born and raised in Rappahannock County, attended Rappahannock County schools and Rapp Nature Camp. Rachel is an ELL teacher in Loudoun County, VA. And Hannah is a nurse in the NICU at UVA Hospital.
Erin Platt, Board Member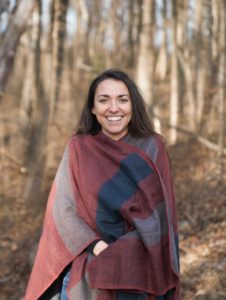 Former camper at Rapp Nature Camp and Nature Camp at Vesuvius, mother of current Rapp Nature Camp camper, and former teacher and current board member of Child Care and Learning Center of Rappahannock County, Erin has spent much of her life involved in early childhood learning. She sees the great value for kids to disconnect from computer screens and immerse themselves in a direct experience of the natural world. She also enjoys being an occasional cast member of RAAC theatre group and fully participating in a community she has called home for over 35 years.
Erin's experience as a camper at Rapp Nature Camp brings immeasurable value to our board. She helps keep alive the child's eye view with the broader perspective of a parent. As she says in a recent Rapp News article, "I was eight years old when I had my first experience at Rappahannock Nature Camp and nearly thirty years later I can remember every sight, every smell, every feeling. When was the last time you went outside and sat down on the ground and just listened? Listened with no regard for the dirt that will end up on your backside or the dew from the grass that is soaking into your shoes… At Nature Camp my sense of wonder was encouraged and rewarded. I learned many facts about the animals and plants and atmosphere around me. More importantly, though, I learned how to respect, protect and be a part of the natural world that existed long before me and will continue to exist long after I'm gone."
Nina Anderson, Board Member
Nina Anderson has been an elementary teacher for nearly 20 years and is currently working on a Masters Degree in Curriculum and Instruction through George Mason. She lives with her husband and Jenkins, "the best dog ever" in Old Town Warrenton. Nina has two adult daughters who are also "Earth Enthusiasts".
Nina has been a life-long nature lover and has embraced the opportunity to participate in Rapp Nature Camp this past summer.  As a youth, she attended Nature Camp in Vesuvius, VA. She is an avid hiker, runner, and reader. Rapp Nature Camp is another opportunity to be actively engaged with youth and the great outdoors.
Jeb Wofford, Board Member
Jeb Wofford moved to Rappahannock county with his wife and 2 boys, nine years ago. Jeb feels lucky that his early love of nature eventually turned into a career. After completing a B.S. in Biology from Washington and Lee and a M.S. in Fisheries Science from Oregon State University, he became a professional biologist. He currently works for the National Park Service, where he's been employed for the last 10 years. Both of his sons are active participants in Rapp Nature Camp during the summer session. Jeb tends to look for "my own quiet spots" along the county's creeks and rivers, though he's certainly happiest when his relatively loud family is in tow.
Save
Save
Save
Save
Save
Save
Save
Save
Save
Save
Save
Save
Save
Save
Save
Save
Save
Save
Save
Save
Save
Save
Save
Save
Save
Save
Save