In 1986, Rapp Nature Camp was one of at least eight "Natural History Day Camps" established as part of a regional environmental education program initiated by the Piedmont Environmental Council. It has been in continuous operation since that time.
Rappahannock Nature Camp (or Rapp Nature Camp) was established August 17, 2016 and certified as 501(c)(3) on September 16, 2016.  It has offered a one-of-a-kind education experience for Rappahannock County children for over 37 years and has been called "a Rappahannock County treasure" by parents of campers.  Some of these parents are themselves former campers.  The camp's new independent organization is our first step towards establishing longer term stability and opportunities for expansion.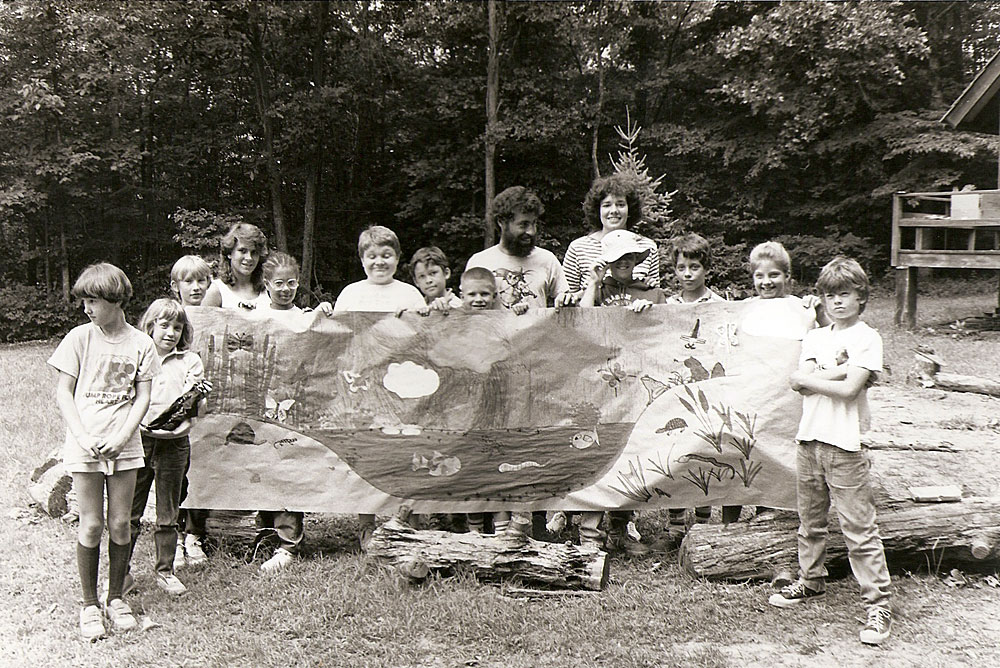 Rapp Nature Camp serves 20 boys and girls per session.  We currently serve children 8-16 years of age. Most of the campers are Rappahannock County residents; some come each year from far away and are visiting grandparents or other relatives who live in the county.  Our mission is "to allow individuals, especially children, to discover for themselves the wonder and beauty of the natural world, and to understand what it means to be a part of a community of living things."  The camp's motto is "Nature lessons are life lessons."  Our activities are almost all outdoors and are focused on community building, nature observation, and respect for the natural environment and its inhabitants.  Everything we do is oriented towards such "life lessons" as developing listening, confidence in public speaking, vocabulary, working cooperatively, art and music, and imagination.  Each camper has a special "Quiet Spot" and spends "Quiet Time" alone, just observing nature.  Every year, the campers write and draw for our 12-page annual newsletter.
Our on-site staff consists of the camp director, an adult assistant director, a camp medic, and usually at least one young counselor-in-training.  The camp's home base is at "Singing Creek," property of the camp's founding director, Lyt Wood, located three miles south of Sperryville on the Hazel River and within walking distance of Shenandoah National Park.  Most of the counselors are former campers and all staff members undergo a program of training at the camp which focuses on educational philosophy and safety matters.
Rapp Nature Camp has been made possible by tremendous volunteer support. Neighbors allow use of their properties, and volunteers have built the camp barn, a footbridge over the Hazel River, and the Frog Pond which is the focus of our habitat studies. Volunteers also help with registration and serve as visiting instructors.  For many years, one former camper's parents donated, delivered, prepared, and served all food and supplies for a night of camping.  So Rapp Nature Camp is a true community effort!
Top photo: 2022 Camp Session   –  Bottom photo: 1988 Camp Session