STAFF
Rachel Bynum, Camp Director
Having successfully completed its 37th season of summer day camp, Rapp Nature Camp enters a new phase with the ascension of Rachel Bynum into the role of Camp Director.  Rachel has lived in Rappahannock County since 1999 and runs Waterpenny Farm with her husband, Eric Plaksin.  She graduated from Carleton College in 1995, majoring in Environmental Studies with a concentration in Natural History.  After college, she worked for four years as an outdoor environmental educator at facilities ranging from nature centers to summer camps to residential outdoor learning centers.  She moved to Sperryville after a year working with the Chesapeake Bay Foundation as an educator at Clagett Farm.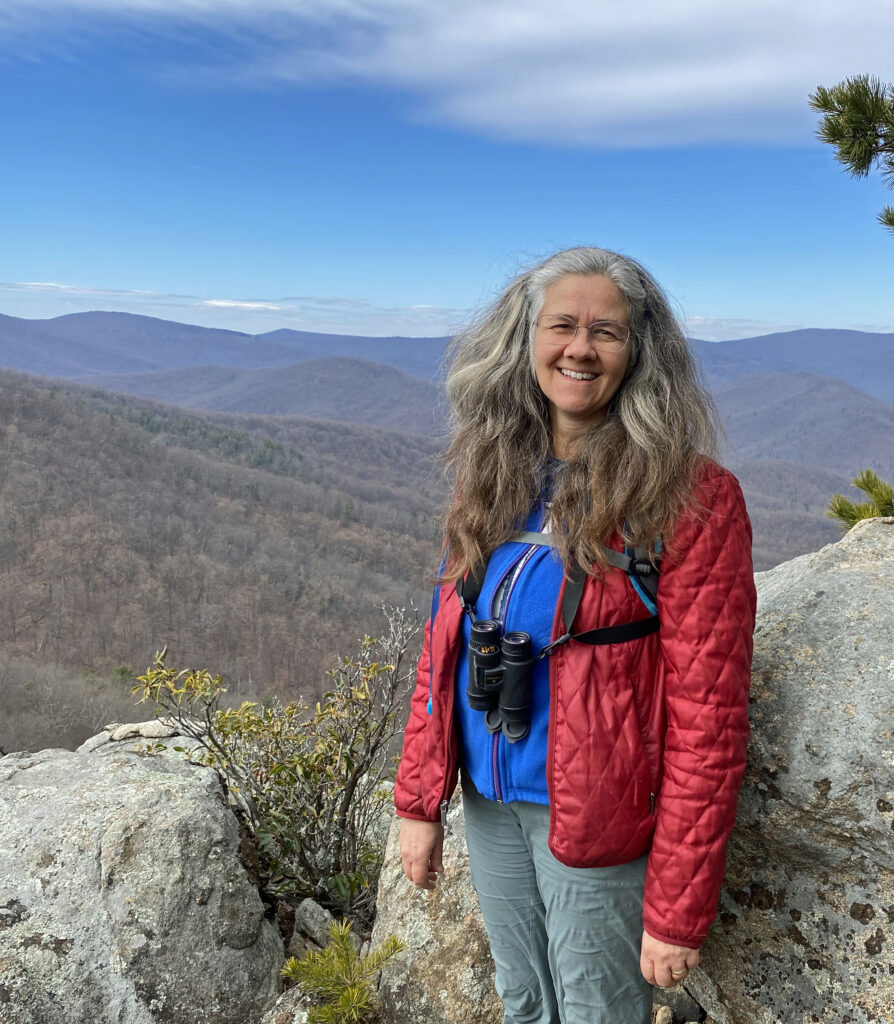 In Rappahannock County, Rachel has been involved with environmental and arts community organizations in various ways, and she currently serves on the Rappahannock County School Board.  She has enjoyed working with kids in the RAAC (Rappahannock Association for Arts and Community) Theatre, as well as leading hands-on lessons in the schools both as a parent and as a volunteer with RappFLOW (Rappahannock Friends and Lovers of our Watersheds).  She has helped to lead special events like an annual Watershed Field Day, a Kids Butterfly Count at Waterpenny Farm sponsored by Virginia Master Naturalists, and the annual Rappahannock Plant Sale, to name a few.  These connections will keep camp open to additional community collaboration.
Rachel sees Rapp Nature Camp as vital to Rappahannock County's community identity.  She values the range of both focused and playful activities in the camp repertoire.  Camp can hone campers' authentic observation skills and help them to learn to express themselves and harmonize with one another and the natural world.  She sees that kids are naturally talented at observation and enthusiastic about nature and appreciates the child-centered and discovery-based approach that Camp fosters.
As a mother of two campers, she sees that having kids at Camp rekindles a spirit of wonder, excitement, and connection to nature, both in campers and in the adults around them.  She believes that positive and healthy experiences in nature should be accessible to all and provide grounding for happiness, purpose, and success later in life.
Lyt Wood, Artistic Advisor and Facilities Manager

Lyt Wood has been a professional arborist, forester and educator in natural history subjects since 1974. He has a Bachelor of Science degree from Virginia Polytechnic Institute and State University in Forestry and Wildlife Management. From 1974 to 1981, he worked as County Forester with the Virginia Division of Forestry promoting forest management practices on private land in Madison and Rappahannock Counties.
Since 1981 he has worked on various projects related to agriculture, tree care and natural history education: editor of the newsletter of the Virginia Association of Biological Farmers; manager of a 30-acre apple and peach orchard and 60 honeybee hives; educational and other support for the Nature Camp at Vesuvius, Virginia; and assistance with mapping and other projects for The Nature Conservancy. In the 1980's he worked with the Piedmont Environmental Council's Education Committee to establish a regional educational program, of which PEC's Natural History Day Camps were a part.
In 1986 he helped to establish Rapp Nature Camp which, under his direction, is still open to children each summer at his property on the Hazel River south of Sperryville. He is semi-retired as sole proprietor of Tree Works, specializing in all kinds of tree care. His personal interests include gardening and small-scale farming, wildlife watching, Goethean science, Waldorf education, songwriting and traditional music.
Nina Anderson, Assistant Camp Director
Nina Anderson has been an elementary teacher for nearly 20 years and has a Master's Degree in Curriculum and Instruction from George Mason University. She lives with her husband and Jenkins, "the best dog ever" in Old Town Warrenton. Nina has two adult daughters who are also "Earth Enthusiasts".
Nina has been a life-long nature lover and has embraced the opportunity to participate in Rapp Nature Camp.  As a youth, she attended Nature Camp in Vesuvius, VA. She is an avid hiker, runner, and reader. Rapp Nature Camp is another opportunity to be actively engaged with youth and the great outdoors.  Nina also serves on the Camp's Board of Directors.
Agustin Garcia Prieto, Camp Medic and Counsellor

Gus has a strong passion for patient care and medicine and is studying Nursing at Virginia Commonwealth University in Richmond.  He is also an Emergency Medical Technician (EMT) and has volunteered with both the Sperryville Volunteer Rescue Squad since graduating Rappahannock County High School in 2021 and the Richmond Volunteer Rescue Squad since 2022.  When he is not too busy with college, he regularly runs calls with both rescue squads as a healthcare provider and loves every minute of it.  His role as an EMT includes exposure to patients with simple to complex medical or traumatic conditions both in the adult and pediatric populations.  He was recently recognized by the Rappahannock County Fire and Rescue Association and the Rappahannock Emergency Medical Services Council for his contributions to the community.
Gus also loves going bird watching on long hikes whenever he has the chance.  His love for nature keeps him coming back to Rappahannock as much as possible to enjoy Shenandoah National Park and the town of Sperryville where he's lived for the past three years.
He is excited to continue being a part of the Rappahannock Nature Camp community and cannot wait for the experiences to come!
Rob Bannister, Administrative Director

After retiring from a career in financial consulting, Rob Bannister relocated to Hazel River country.  A sense of wonder with nature was critical to his formative years, so Rob was delighted to join the staff of an organization, right in his own backyard, that immerses children in nature.
As Administrative Director, Rob draws on experiences from his professional and personal life.  Rob was a Managing Director with Ernst & Young Infrastructure Advisors and Chief Financial Officer with Jeffrey A. Parker & Associates.  Rob has an MBA in Finance from the University of Pennsylvania's Wharton School and an MA in International Economics and Latin America Studies from the Johns Hopkins University.  He also completed the University of Miami's Executive Certified Financial Planner program.  Rob co-chairs the basic training committee of the Old Rag chapter of the Virginia Master Naturalists, and he currently serves on the board of directors of the Washington Ringing Society, a 501(c)(3) nonprofit corporation, whose members ring the tower bells at Washington National Cathedral and the Old Post Office Tower.  As such, Rob teaches the ancient art of change ringing to young people and the young at heart.