STAFF
Lyt Wood, Camp Director

Lyt Wood has been a professional arborist, forester and educator in natural history subjects since 1974. He has a Bachelor of Science degree from Virginia Polytechnic Institute and State University in Forestry and Wildlife Management. From 1974 to 1981, he worked as County Forester with the Virginia Division of Forestry promoting forest management practices on private land in Madison and Rappahannock Counties.
Since 1981 he has worked on various projects related to agriculture, tree care and natural history education: editor of the newsletter of the Virginia Association of Biological Farmers; manager of a 30-acre apple and peach orchard and 60 honeybee hives; educational and other support for the Nature Camp at Vesuvius, Virginia; and assistance with mapping and other projects for The Nature Conservancy. In the 1980's he worked with the Piedmont Environmental Council's Education Committee to establish a regional educational program, of which PEC's Natural History Day Camps were a part.
In 1986 he helped to establish Rapp Nature Camp which, under his direction, is still open to children each summer at his property on the Hazel River south of Sperryville. He is semi-retired as sole proprietor of Tree Works, specializing in all kinds of tree care. His personal interests include gardening and small-scale farming, wildlife watching, Goethean science, Waldorf education, songwriting and traditional music.
Kat Habib, Assistant Director

Kat Habib is a Rapp Nature Camp neighbor who, before becoming Assistant Director in 2015, would annually look across the river during the camp session while on her walk, wondering what the campers were up to.  She is delighted to be on this side of Singing Creek.
Kat has made her home in Rappahannock since 2012, a life-long dream that began during her childhood over the mountain in Warren County.  Growing up on a farm with an environmental scientist mother (a colleague of Lyt's), soil quality and gardening, seine nets and river critters, art and song, were all part of every day conversation; she enjoys both remembering and sharing this with campers.  Kat received a BFA from the Corcoran College of Art + Design, where she managed the ceramics studio for several years and taught in the Pre-College summer program.  Now a ceramic artist, florist, and college and career guide with Headwaters Foundation, Kat is both an artist and an educator, each feeding the other within her.  Much of her artistic inspiration comes from nature and observation.  She especially likes birds, trees, walks in the woods and hearing from children what they see that adults may not.
Nina Anderson, Assistant Director
Nina Anderson has an Education Degree, has taught kindergarten for 12 years, and is in her 6th year teaching 2nd grade in Fauquier County.  She has been a life-long nature lover.  As a youth, she attended Nature Camp in Vesuvius, VA.  She is an avid hiker, runner, and reader.  She lives with her husband and Jenkins, "the best dog ever" in Old town Warrenton. She has 2 adult daughters – one is a student at VCU and the other a graduate from VA Tech.
Nina enjoys any opportunity to take learning outdoors. Additionally, she can be found with a menagerie of creatures in her classroom, borrowed temporarily for observation and lessons in life and its patterns and cycles. Rapp Nature Camp is another opportunity to be actively engaged with youth and the great outdoors. It is her goal to nurture an appreciation of the natural world in the youth of today, for a better tomorrow.
Jen Cable, Administrative Director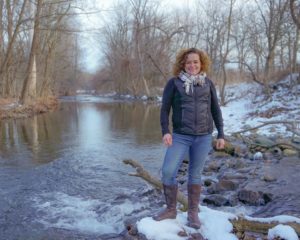 Jen has called Rappahannock County home for 20 plus years. She has a soft spot and connection with camp as her son has attended since he was 8 and will now soon move up to the next session with the older kids.  It has been one of his favorite places and hers too !
Jen also owns and operates Flourish Root floral studio in Sperryville.  A studio which specializes in growing, using and harvesting locally grown seasonal flowers for events, everyday and artistic collaborations.  She appreciates the mountains, flowers, trees and all her natural surroundings as inspirations for her work.  She enjoys being outdoors, active in her community and travel.  Rapp Nature Camp is an amazing place and she is thrilled to be a part of this organization which instills and educates all about the wonders of Nature.